Bread and Roses Strike of 1912 / History Poster Design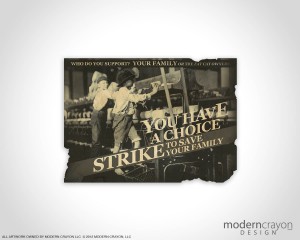 Description:
Nina Oberlin
Bread and Roses Strike, Fall 2012
The reasoning behind the poster seems the very summation of all of the factors that were driving the strike: family. Whether or not the factory workers knew how that Lawrence had the seventh highest infant mortality in the Nation, they still knew that their
children died, which translates into a loss of family. The factory workers knew that the length of their work day disallowed them to spend quality time with their families. They knew that they did not earn high enough wages for the children to go to school. They
knew that they did not earn high enough wages for their children to even wait for their legal working age to begin work. They were forced to forge their children's birth certificates so that the children could begin working before the legal age or the family
would starve. Be it wages, fifty-four hours working weeks, unpaid overtime, child labor, female labor, or extremely low pay, all equals the degradation of family. Therefore, the choice of using children laboring on the poster is meant to strike at the very heart of what a family worked toward, the survival of the children. Your children are working, because
the family cannot earn enough for them to be children, so that the fat cat owners can profit from your family. Strike, so that you can earn the labor rights and let your children be children.
Please follow and like us: